Pip Bartlett's Guide to Magical Creatures
Written by Jackson Pearce
Reviewed by Teddy M. (age 9)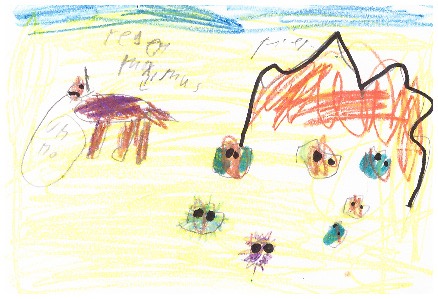 Interested in magical creatures? So is Pip! Join her and her friends on a great adventure in Pip Barlett's Guide to Magical Creatures by Jackson Pearce and Maggie Stiefvater.
Pip Barlett is special because she can talk to magical creatures and understand them. The book starts at her school on career day where one family brings unicorns. She's excited because she's never seen unicorns before. And then things go crazy! Pip gets sent to her Aunt Emma's house. Aunt Emma's job is to be a veterinarian for the magical creatures. One day the fuzzles came along. The fuzzles are dangerous because they can catch on fire, but they are also kind of cute. The fire is making people want to have them exterminated. Pip has an idea to save the fuzzles along with her new friend Thomas.
I liked this book because it is so imaginative. It has so many magical creatures, some that I have never heard of. Pip connects with the magical creatures because she can talk with them. My favorite part was when they found the baby grim. This was really important because he was the key to saving the fuzzles. Regent Maximus kind of reminds me of my mom. This is because she is scared of rides that have really tight spaces and he is scared of everything!
I recommend this book for kids ages 8 and older who like animals and magical creatures. I know you will enjoy this magical book!