Circus Mirandus
Written by Cassie Beasley
Reviewed by Emma S. (age 9)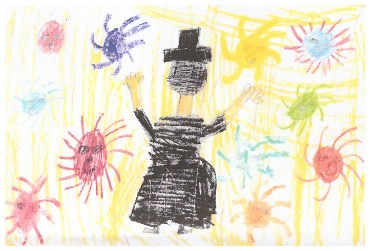 Wow!! Join Micah and his grandfather on a magical adventure in the book Circus Mirandus by Cassie Beasley.
When Grandpa Ephraim was young, he went to Circus Mirandus. He found many magical things including the invisible tiger guarding the gates and the beautiful flying birdwoman. There, the special magician, the light bender, promised Grandpa Ephraim a miracle. When Grandpa Ephraim told Micah about it, Micah was ready to do everything he could to find out what the miracle was. Micah went to Circus Mirandus to see the light bender so he could get the miracle for his grandfather. Jenny came on this adventure with Micah. They have to make the magician keep his promise!
The book was special to me because it has a special character named Jenny. She reminds me of myself. Jenny is Micah's friend. One of the parts I liked the most in the story was when Jenny went to Circus Mirandus to help Micah get the miracle for Grandpa Ephraim. Jenny is nice to Grandpa Ephraim and a good friend to Micah. I didn't like the part where Grandpa Ephraim died. It was sad and he didn't get to see the miracle that kept him believing that he could find it.
In conclusion, if you like magic and adventure you would like this book too. It is especially good for kids ages 8-11. I hope you like it as much as I did!