Lily and Miss Liberty
Written by Carla Stevens
Illustrated by Deborah Kogan Ray
Reviewed by Alexa G. (age 9)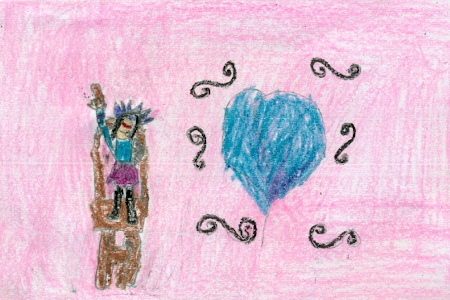 Lily and Miss Liberty is a great book. Miss Liberty is sailing across the sea to New York City. People really want to see Miss Liberty. However, they cannot see her until she has a place to stand. Have you ever seen the Statue of Liberty? Have you ever tried making a model of the Statue of Liberty's crown? Well Lily did. Read this book to see how she did it. You could also read this book to learn more about Statue of Liberty.
I am convinced that you will love this book if you like the Statue of Liberty. Lily and Miss Liberty is the best book ever because it talks about Miss Liberty. I really want to visit her someday. Like Lily, I also have a best friend named Isabella G. Lily's mom did not even care about Miss Liberty until Lily went to see Miss Liberty. Can you believe that? This book is amazing!
I recommend this book to kids that like adventures. I love this book because Lily helps her neighbor because she is sick. The type of reader that would like this book are girls aged 7-13. If you like realistic fiction books. You would also enjoy this book. If you would like to learn about the Statue of Liberty this is the book for you. You might like this book because it has interesting characters like Lily and her best friend. They have an interesting friendship. The author's writing style makes you imagine everything in your head! Go check out this book!