Frog and Toad Together
Written by Arnold Lobel
Reviewed by Vinaya P. (age 9)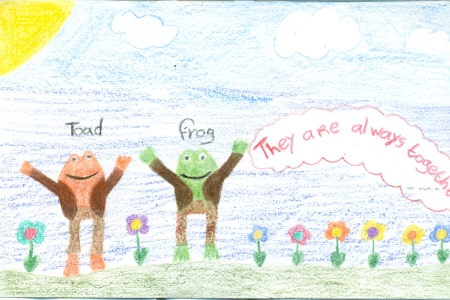 Do you like silly stories? Then you really have to read Frog and Toad Together. Frog and Toad are always together. One day Toad made a list and he walked outside to go to Frog's house to show him. First they took a walk but then Toad lost his list! Read the book and find out if Toad finds his important list.
I thought this book was silly. Toad was reading, singing, playing music, and sleeping with the flowers! I loved that he book was about friendship. If you liked Frog and Toad Together you really have to read the other books in the Frog and Toad series. This book reminded me when I found a frog. It really looked like Frog in the story! The only difference was that the frog that I found couldn't talk and didn't have clothes on like the one in the story.
If you like silly books you really have to read Frog and Toad Together. I think everyone can read this book. It is very funny and silly. It really teaches you about friendship and I think everyone should learn about friendship. Kids in first and second grade would love this book.