Percy Jackson and the Olympians The Lightning Thief
Written by Rick Riordan
Reviewed by Ali M. (age 8)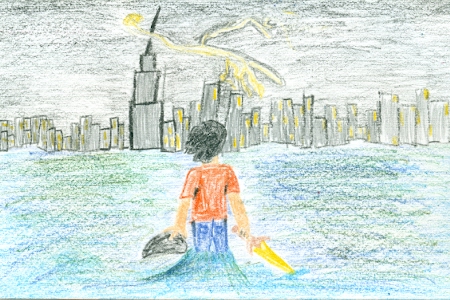 If you like adventurous stories than you'll love Percy Jackson: The Lightning Thief. Percy, the son of Poseidon (God of the Sea) is blamed for stealing Zeus's (Lord of the Sky) lightning bolt which is the most powerful weapon in the world! So, he and his friends Grover and Annabeth have 14 days to return it to Zeus…oops I think I told too much! Do you think Percy stole the lightning bolt? Read the book to find out!
I found one character very interesting. His name is Grover. He's half goat-half human. I mean he has goat legs and goat horns!! His legs even have hooves! Plus, he's probably the bravest satyr alive. There are a lot of things that make this book special. First of all, everyone in this book are half-bloods. Half-bloods are kids of both mortals and gods. People turn into gold dust like Percy's… oops I can't tell you that! I still have some questions after reading the book. How did the half-bloods survive with monsters attacking them multiple times? I will have to read the next book in the series to find out. I also thought the book was funny. One time, when Percy made a promise to be good in school, he pushed a girl into a water fountain! She was soaking wet. I mean, we can't be good all the time, right?
I recommend this book to 3rd - 7th graders. A child who loves adventurous books would love this book. Even though this book has 375 pages you will never want to put it down!