Mrs. Roopy is Loopy
Written by Dan Gutman
Reviewed by Noah L. (age 8)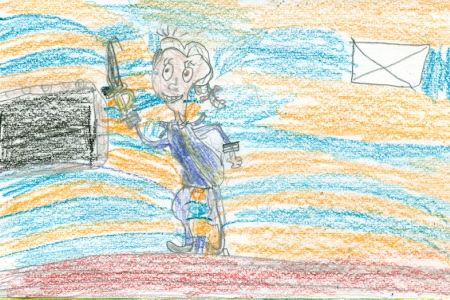 If you like funny books then Mrs. Roopy is Loopy is a good book for you. Mrs. Roopy dresses up as all these different people. AJ and his friends try to prove that's it's just Mrs. Roopy but no one believes them. So the kids decided to sneak into Mrs. Roopy's room to figure it out. Read the book to see what the kids find!
The characters are my favorite part of this book. Mrs. Roopy and AJ are so funny and silly. I loved how Mrs. Roopy dresses up as all these different people. I also loved how there are a lot of pictures in the story. It really helped me understand the book better because I could picture what Mrs. Roopy was wearing. AJ reminds me of myself because he is so funny and always filled with surprises just like me. The author has a whole series of books. Dan Gutman always makes the adults supper silly in his books. All of Dan Gutman's books have rhyming titles.
I think kids should read this book because it is super silly. It also has a lot of exciting events. Kids in second to fourth grade would love this book. It is such a crazy book you will never want to put it down!