The Never Girls Wedding Wings
Written by Kiki Thorpe
Illustrated by Jana Christy
Reviewed by Victoria M. (age 9)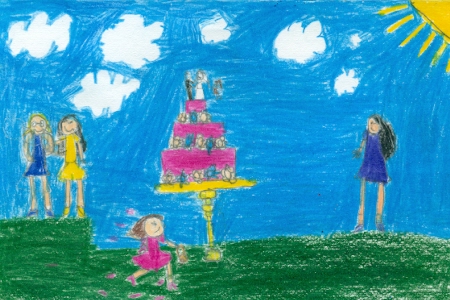 Do you like fiction adventures? If you do, than Never Girls Wedding Wings is good for you. This book is about a wedding and when the fairies hear about it they want to come. Gabby is the flower girl and when she loses the bride's vail she is in big trouble if someone finds out. Read the book to find out if she will find the vail in time for the wedding.
My favorite part of the book is when Mia said, "Do not look up!'' but her friend's looked up anyway and saw Gabby flying over them. This part is funny because no one realized their friend was right above them. This book is a part of a series. It is similar to the other books because there are always fairies in the book. This book is special because in the other books the girls always go to Pixie Hollow but now the fairies come to the human world! Gabby changed in the book because in the beginning Gabby really wanted to be the flower girl and in the end she did not. She changed her mind because she lost the bride's vail and was scared of making another mistake.
I think girls would like this book because it is about a beautiful wedding. It is a fantasy story where you have to use your imagination. I think girls ages 8 to 10 should read this book.