Sadako and the Thousand Paper Cranes
Written by Eleanor Coerr
Illustrated by Ronald Himler
Reviewed by Bella B. (age 8)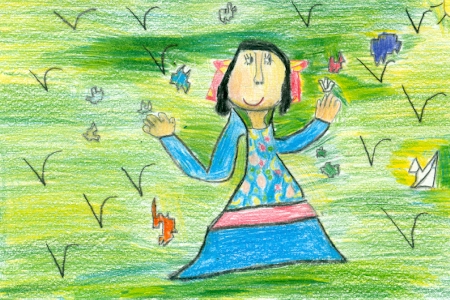 If you like history books, this book is definitely for you! A girl named Sadako Chan is the school's best runner. She started running before she could even walk, jump or skip. One time at field day, she was in a relay race and then all of a sudden, she felt dizzy and her legs were shaking! Read the book to find out what happens next!
I'm going to tell you some of my opinions about this book. I felt happy while reading this book because a girl named Sadako could run before she could walk. Also, because she felt strength and happiness in her bones whenever she ran and when she got leukemia it did not stop her. Next, my second opinion is about the illustrations. I thought the illustrations were very detailed. I thought they were detailed because they had colors with black and white, people, and much more. The illustrations were a little sad because she was in a hospital bed. I have an opinion about how Sadako and how she changed, here are some reasons why. When she was running, and she ran fast, she was at peace. But when she got sick she was very slow. This lesson of this story is always believe and you can achieve!
I think other kids should read this book because it is a real story about a girl that has to make 1,000 paper cranes and when she does, the god will protect her from a sickness. I think readers 8 to 11 should read this book because it is a little sad but also happy.