Because of Winn-Dixie
Written by Kate DiCamillo
Reviewed by Kylie S. (age 8)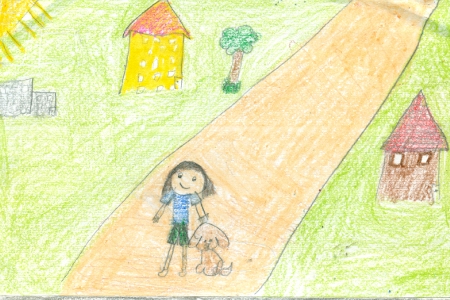 Do you like sad books that gives you a lot of feelings? If so, you should read Because of Winn-Dixie. It is about a girl named India Opal Buloni. When her mother died she moved to a new town and new house with her dad. She was very lonely and had no friends. One day, she goes to the store and comes home with a… Open the book the book to find out what she comes home with!
My favorite part of the book Because of Winn-Dixie is when India Opal Buloni found Winn-Dixie after he got lost. I like that part because I was sad when my dog, Roxy, got lost. Roxy was probably very scared and so was Winn-Dixie. I was sad when I lost Roxy and Indai was also probably very sad to find Winn-Dixie all alone. This book reminds me of a book called Strider. It is also about finding a stray dog somewhere. I think the lesson of the story is to appreciate your friends and what you have because you never know when you will lose it.
I think the type of reader that would enjoy this book would be people who have dogs or someone who moved to a new town. They could relate to this book because they would know what India was going through throughout this book. I think students in 3rd to 5th grade should read this book.