Nancy Drew Clue Book: Movie Madness
Written by Carolyn Keene
Illustrated by Peter Francis
Reviewed by Brianna J. (age 8)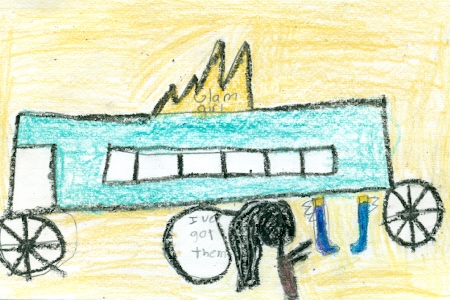 If you like mystery books then Nancy Drew Movie Madness is the book for you. A movie star named Glam Girl went to sleep and when she woke up and her shoes wear gone! Nancy, Bess and Georgie were on the case to help her find her shoes. To catch the thief they decide to make a…Oops I already told you too much! Read the book to find out who stole her shoes!
In the story there is a mystery – who stole Glam Girl's shoes? This reminded me of a time when I took my sister's favorite shoes. She was very mad at me just like Glam Girl was mad in the book. This book is a part of a series. All of the books in the Nancy Drew series are a mystery. Nancy Drew solves mysteries with her friends Bess and Georgie. One character that changed in the story is Georgie. Georgie's real name is George and she was always so insecure about it, but by the end of the story she liked her real name and wanted to be called George from now on.
I think other kids should read this book because it is a very mysterious story. A person who is very mysteries might like this book because it keeps you guessing the whole way through. Readers in 1st to 3rd grade might like this story.