Mrs. Lilly is Silly
Written by Dan Gutman
Illustrated by Jim Paillot
Reviewed by Marissa S. (age 9)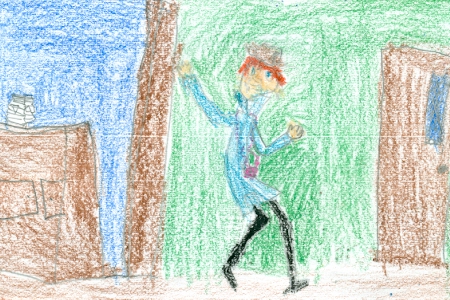 Do you like silly books? If you do then Mrs. Lilly is Silly is a good book for you. There is a teacher, a class and a newsletter writer named Mrs. Lilly. Mrs. Lilly goes to the class and wants to make a newsletter for the elementary school. Mrs. Lilly wants to report about what teachers do that no one knows about! If want to know about what teachers do that no one knows about, go read this funny book!
In my opinion the book Mrs. Lilly is Silly is a great book because the author Dan Gutman makes the book great. I think the pictures are great because they look real. The illustrator did not use any color but the pictures are really detailed. My favorite part was then Mr. Kluts pulled down his pants because it was very funny. I think the book is amazing. I love the book because the illustrations and words make the book exciting. I think this is a good book.
I recommend this book because it is a hilarious book. The characters do ridiculous things that will make you laugh out loud. The type of readers who would enjoy this book are children ages 7-10. Also girls and boys that like funny books would enjoy this book. I think this book is really good because the teachers go to…oh I should not tell you. Go read this book to find out.