The Christmas Party From the Black Lagoon
Written by Mike Thaler
Illustrated by Jared Lee
Reviewed by Shanna C. (age 8)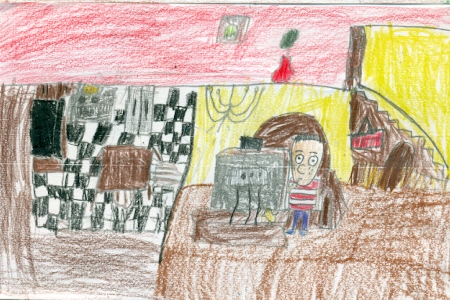 The Christmas Party from the Black Lagoon is a good book if you like to use your imagination. This book has a lot of action. It's about this boy named Hubie and his class is having a Christmas party. His whole class has to pick a name out of a hat to exchange gifts with one another. He picked a girl named Penny! Penny kept asking for more gifts and more gifts. Finally, she asked for a doll, but Hubie did not have enough money! How will he get the doll for Penny? Read the book to find out.
In my opinion the Christmas Party from The Black Lagoon is entertaining. I love the Christmas Party from The Black Lagoon because Christmas is my favorite holiday. My favorite part was when Hubie and his friends were singing Rudolph the Red-Nose Reindeer in music class. This book is from a series called The Black Lagoon. This story made me feel adventurous. I think the author Mike Thaler is the best author ever. In each book Hubie is usually not confident in the beginning but then is confident in the end.
I recommend this book because it is super entertaining. The illustrations, characters and story all grab the reader's attention. The type of reader who would enjoy this book are children ages 8-10. Also people who enjoy reading adventure books would love this book. I think this book is interesting because it is funny and makes you get excited about the characters. You will love this book!