The Snow Day from the Black Lagoon
Written by Mike Thaler
Illustrated by Jared Lee
Reviewed by Adriana Q. (age 8)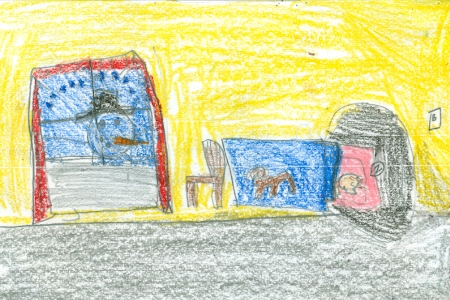 The Snow Day from the Black Lagoon is a great book! Many children like snow days but not Hubie! Hubie does not like winter, snow or getting buried in layers of clothes. Find out what happens when Hubie's mom and Hubie's friend Eric convince him to join them in the wonderland. Will Hubie survive the snow day? Go read this book to find out!
In my opinion my favorite part of the book is when Hubie tells us tips of survival for winter. For example don't lick the lamppost! It was my favorite part because Hubie does not like winter. The illustration were great. I think the pictures are interesting and usually have speech bubbles. The pictures are in black and white. They were drawn in pencil. This book is part of a series called The Black Lagoon. One of The Black Lagoon books is called Reading Challenge. It is similar because Hubie does not like snow or reading books in either of these books. Finally, you should go read any of The Black Lagoon books because they are great.
I recommend this book because it's weird and funny. Hubie doesn't like snow, like most children do. The type of reader who would enjoy this book are 8-10 year old girls and boys. Also people who like entertaining books. That is why you should read it! This might interest you because it was Christmas time and Hubie likes getting presents. Do you enjoy Christmas? Go check out this book.