I Survived the Destruction of Pompeii, AD 79
Written by Lauren Tarshis
Illustrated by Scott Dawson
Reviewed by Alena G. (age 8)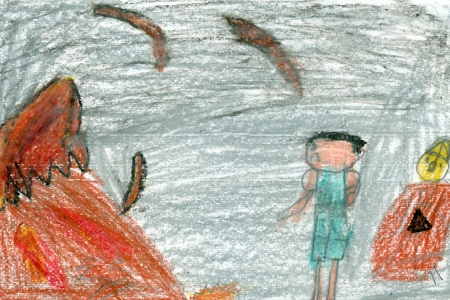 If you like to get scared and go on adventures. You should read I Survived the Destruction of Pompeii. Marcus lives in Pompeii. The town of Pompeii has a volcano named Mt. Vesuvius. Marcus feels the trembling and knows somethings is wrong. Will Marcus figure out what is wrong in Pompeii? Will Marcus survive? Read the book to find out.
In my opinion, this book is outrageous and amazing. My favorite part of the book is when Marcus was running when the volcano, Mt. Vesuvius was erupting. It was scary but awesome at the same time. Some things that are unique about this book are the scenes are scary, awesome, crazy and exciting. I Survived is a series of books. I Survived books are cool! I think you should go read them to learn more about many topics. They make you scared, excited and nervous. That is my opinion about this book.
I recommend this book because it is frightening and adventurous. The type of readers who would enjoy this book are kids 8-11 years old. People who are interested in volcanoes would also love this book. The illustrations are black and white and full of details. If you like to get butterflies in your stomach and love reading you should read this book!