Babushka's Doll
Written by Patricia Polacco
Illustrated by Patricia Polacco
Reviewed by Julia S. (age 8)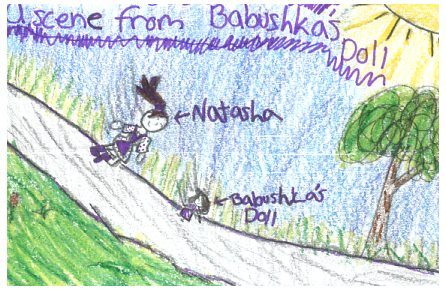 Natasha was one very naughty girl. Natasha wants her Babushka to play with her, but Natasha's Babushka has work to do first. Natasha saw her Babushka's doll, and asked to play with it. Suddenly, Babushka's doll comes to life. What will Babushka's doll do to change Natasha?
I liked Babushka's Doll. My favorite part is when Natasha saw her Babushka's doll. I liked that part because the doll came to life and scared Natasha but then asks to play. My favorite character was the Babushka. I like her because she keeps on working no matter what. The illustrations were based off of a farm home in Russia. I liked reading Babushkas' Doll.
I recommend this book to people who may be a little naughty, or have a doll, or a grandma. Children 6-10 years old should read Babushka's Doll. I recommend this book because Patricia put effort in it and put a lot of emotion into the story. Babushka's Doll teaches a lesson - don't always be a naughty child or else you will never get what you want. I think people would like reading Babushka's Doll.