Thank You, Mr. Falker
Written by Patricia Polacco
Illustrated by Patricia Polacco
Reviewed by Isiss P. (age 9)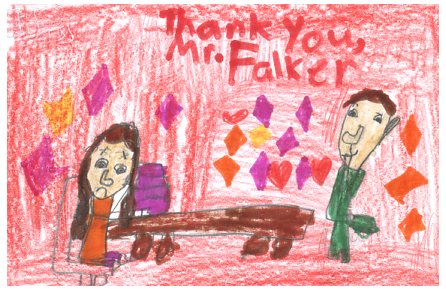 In the story there was a little girl and she did not know how to read. All the kids called her dumb. They all moved up to 3rd grade. She had a hard time reading the books. Someone new came into their class his name was Mr. Faker. The next day at recess little girl was in a dark place, where she could see all the kids playing. Eric, the bully, found her and he was laughing at her. But Mr. Falker saw, he sent Eric to the office. Patricia didn't give up and she tried again she knows how to read with the help of Mr.Falker. Read to find out all the things that happen in the book.
The reason I like this book is because when I was in 1st grade I did not know how to read but my teacher helped me. Another reason I like this book because Mr. Falker helped her with her reading. I also liked the pictures in the book, they were interesting.
I recommend this book my brother because he is learning to read. My Mom likes to read books and anyone who reads to their child should read this book. Children ages 8 and up may be able to read this book well!