The Worm Whisperer
Written by Betty Hicks
Reviewed by Callee J. (age 8)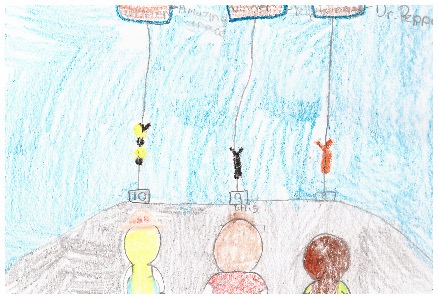 Have you ever heard of a Worm Whisperer? Well, if you would like to find out, you must read The Worm Whisperer by Betty Hicks and illustrated by Ben Hatke.
First, Ellis decides he is going to enter the Woolly Worm race to earn one thousand dollars to help pay for his Dad's back surgery. Ellis's Dad needs surgery for his back and does not have the money to pay his deductible. So, Ellis found a worm to train and if he was the fastest he would win the exact amount of money his Dad needs. Ellis was determined to help his Dad and was willing to even talk to a worm to make the surgery happen.
One of the characters I found interesting was Ellis Coffey because he was so focused on winning the race just to help his Dad. He was also able to communicate with a worm and most people are not able to. This story reminds me of when I wanted to win a race at school. I wanted to win so that everyone would call me the fastest girl in 3rd grade. Ellis reminds me of myself when I am determined to win something or want to get something. I am very determined when I want to be.
In conclusion, I recommend The Worm Whisperer because it is about animals and I enjoy reading about how they live, and what they do even if they are an imaginary worm. It would be a perfect book to read for elementary age kids that love make believe animal stories that have a little twist.