Ruthie and the (Not So) Teeny Tiny Lie
Written by Laura Rankin
Illustrated by Laura Rankin
Reviewed by student in Mrs. Gerard's 1st Grade Class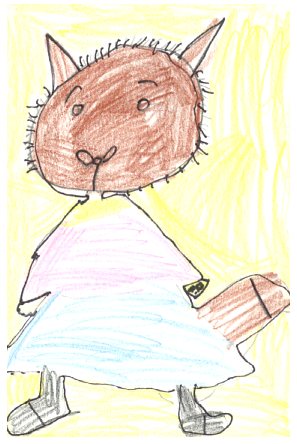 Do you want to hear a story about a big lie? A fox named Ruthie collects teeny tiny things but tells a big lie! Ruthie finds a teeny tiny camera at the school playground that doesn't belong to her. Her friend Martin says "that's mine"! The next thing she knows she is having a big fight. She worries the rest of the day at school. She can't add 2+2, she can't eat, she can't even go to sleep until she gets some good advice from her mom and dad. How do you think Ruthie will get out of this mess? If you want to find out how she solves her problem then read this book!
We thought this book was fantastic because it teaches you a lesson. Ruthie learned you shouldn't tell lies. Ruthie learned you can talk to grownups to help solve problems. We liked the characters because they are funny and they are animals and not people. We think the author's writing style is outstanding because she used awesome describing words. The author used punctuation in an interesting way. She would use all BIG BOLD words to catch the readers' attention. It reminds some of us of when we've told teeny tiny lies and have talked to our parents to help us solve the problem.
We recommend this book for Kindergarten, first and second graders. It is an easy book to read for younger readers. If you like to read books with cool characters, great illustrations and books that have a happy ending then this is the book for you. Read the book to see if you feel the same way.