My Weird School Miss Child has Gone Wild
Written by Dan Gutman
Illustrated by Jim Palliot
Reviewed by Rowan E. (age 8)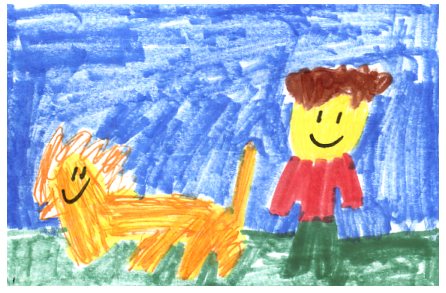 Have you ever wondered what it would be like at the zoo with a crazy chaperone? This book is about a kid named A.J. who has a surprise visitor. The visitor happens to be Miss Child who works at the zoo. A.J. and his classmates get to go to the zoo. They see all of their favorite animals! They see a gorilla and an elephant. But trouble comes, one of A.J.s classmates named Emily is about to get eaten by a lion! If you want to hear if Emily dies or gets saved you will have to read the book!
I liked this book, my favorite part was when A.J. and his classmates come back from their field trip and there were mice! A.J. had left his lunchbox in the classroom! I liked this part because I like when something crazy happens in a book. I feel like the pictures match the writing because when Emily is about to get eaten by a lion it looks like the lion is about to pounce in the picture. My favorite character is AJ because he is the main character and he is funny. He is always saying "That's the first rule of being a kid."
I recommend this book for grades 2 to early 4th because it is a funny, sort of scary, good book. I think people who like animals and funny reads would like this book. The book can interest readers with its setting and its characters because the characters are funny and the setting is cool.