Holes
Written by Louis Sachar
Reviewed by Woody W. (age 11)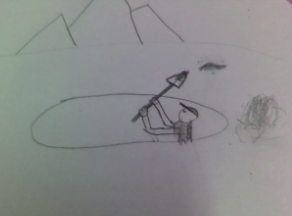 I would recommend Holes for you to read. The book is about a kid named Stanley Yelnats he is walking under a overpass and some old sneakers fall and hit him on the head, Stanley takes them home for his dad's machine to recycle old sneakers. It turns out that the sneakers were Clyde Livingston's (a baseball player) shoes. He was selling his shoes to help charity. Stanley was arrested and sent to Camp Green Lake. At the boys detention center they just dig holes to build character. It does not take long for Stanley to realize the warden is looking for a treasure.
I think it is a great book. It is hard to put down. I thought it was funny and sad. It was funny when the scorpions are all over them. It is sad that he has to go to the prison and didn't do anything. I read it for book club so our teachers made us stop at the good parts. :( :( :( Stanley got mentally and physically stronger because of the challenges at the camp. I had a lot of mixed feelings as I read this book. When I finished, I was surprised by the ending.
This book is great if you like realistic fiction and adventure. I would also recommend it for kids 3rd grade and up. I hope you read Holes as your next book.