Tales of Ancient Greece
Written by Enid Blyton
Illustrated by Chris Price
Reviewed by Jeremy P. (age 10)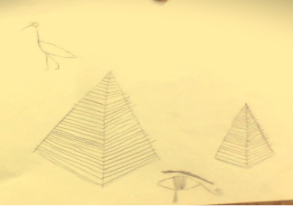 There are many different stories. Some are very original for example there is a Cinderella stories. This book is different than many to all stories that you can read. One of the best and original is Ra and His Children. It is about the creation of the world, and how evil people rebelled against Ra. Who then sent Sekhmet a giant lioness against the rebels who then went psychopathic and killed many innocent people. Ra then dyed very strong beer red to make it look like blood and renamed Sekhmet Hathor goddess of love.
It is also interesting that it explains the sphinx's origins. I didn't know that information before reading this book. I like the character, Ra, because he created the whole world and everything in it, supposedly. Whatever he says, comes into existence. I think this book is interesting to read and you will probably learn something about Egyptian life.
This book is about ancient Egyptian myths which at many times can be dark and/or strange there are 20 short stories in this book. If you don't like ancient myths, death or Egypt, this is probably not your book. WARNING this book can be very boring at times.