Where the Red Fern Grows
Written by Wilson Rawls
Reviewed by Katherine N. (age 10)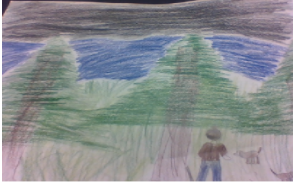 Billy is the main character, in this book he he gets two heart warming dogs. Each night he will go to hunt raccoons. Is that safe. Each night there is a lot of adventure and action. Billy also has 3 sisters. Billy's family is always very busy. Always helping his father on the farm and many chores during the day then he hunts at night. What a busy life.
I think that this book was very interesting. Once I started reading it I could not put it down. This is my favorite book. My heart was pounding as I read this book there is so much action and adventure, that is partly why I liked this book. I also hunt like Billy does in the story but I hunt ducks and pheasant and sometimes deer. My favorite part was when the dogs chased the mountain lion up into the tree. It was pretty funny and nerve-racking. Billy becomes a lot more brave by the end of the book.
I think this book would be best for ages 8 and up. If you like hunting, dogs, and adventure this book would be good for you. I hope that some of you readers out there choose this book to read.