Charlie and the Chocolate Factory
Written by Roald Dahl
Illustrated by Quintin Blake
Reviewed by Chloe M. (age 11)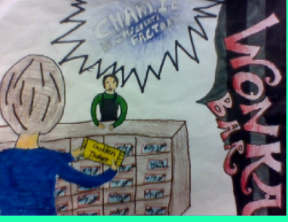 This is a book about a boy that lives in a small house on a hill and lives with his whole family. They aren't the wealthiest people in the world, they barely have anything to eat. The boy's name was Charlie. The chocolate factory down the street was Charlie's favorite thing in the world besides his family. One day five kids were invited to go into the chocolate factory, but only if they find the golden ticket in five of Willy Wonka's chocolate bars and no one has been in it for many years. Willy Wonka owns the chocolate Factory. Willy Wonka took the kids into the factory and everybody in the whole entire city was watching.
My favorite part is when Willy Wonka takes the kids to the room where you can eat everything. I liked this book because it was very fun and exciting to read. Also I loved it when Charlie got introduced to Willy Wonka the owner of the chocolate factory. The theme is kindness. If you are not kind in the factory, you will not pass the test. Charlie is really kind. Willy Wonka is like me because I like to invent things too. That is what Willy Wonka also does.
This book is good for all people who like exciting books that keep you on your toes. This book is also good for all ages because it is friendly. It's not too confusing. That is why you should read this book because this book isn't exclusive for anyone and anyone can read it.