Charlie and the Chocolate Factory
Written by Roald Dahl
Illustrated by Quintin Blake
Reviewed by Abigail K. (age 10)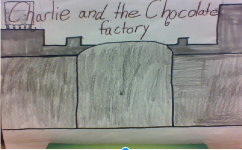 This book is about a boy named Charlie Bucket.Charlie and his family do not have that much money so he only gets one Waka candy bar for his birthday.So on his birthday he is trying to get a golden ticket.So then there is a big giant factory that five people get to see.Will Charlie be one of them?
My favorite characters were Charlie and Violet and Veruca. I like how sassy they are. My favorite part was when Charlie got the golden ticket then he ran home and said I got the golden ticket I got it. Each book by this author, Rahl Dahl is very different like the Giraffe, the Pelly and Me. I do not have anything that I did not like. I liked it all.
I recommend this book for people who can read easy chapter books like maybe 3rd grade to 5th grade. The part that I liked was the ending because it was exciting but I am not going to tell you. If you like adventures and fantasy you will like it.