Ivy and Bean
Written by Annie Barrows
Illustrated by Sophi Blackall
Reviewed by Ava K. (age 9)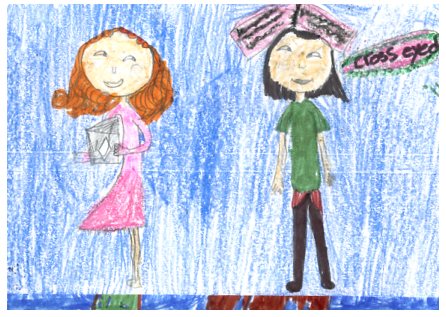 Ivy and bean are 2 completely different people at least that's what they thought. Beans mom said that ivy girl looks really nice Bean thought she was boring Bean's sister Nancy was going shopping Bean hated shopping and Bean was dragged along. Bean was so bored but when they got home bean wanted to pull a trick on Nancy Bean is mischievous the trick involved taking her money bean got caught in the middle of pulling the trick Nancy is was going to tell on Bean. Bean new she would get in trouble so she hid in the process she went to Ivy house to hide. It turns out that Ivy was there to some way somehow will Ivy and Bean become friends you will half to read the book to find out.
I loved this book because it was funny and interesting why it was funny and interesting why I think it was funny and interesting is wen Ivy is sitting outside reading for a hour wen Bean can't even sit still for a second. I think it is interesting that 2 completely different people can become friends. That seams cool. This story reminds me so much like clementine cause it seems like 2 completely different people became friends like clementine and Margaret a connection I made was when I was little there was this girl I thought she was totally different than my nanny set up a playdate with her the first few playdates were terrible. Over the years she became one of my best friends like Ivy and Bean maybe they will become friends
I would recommend this book to grades 2nd to 5th grade because I read the hole series in second grade and I still love it I would say that people who love fun and extremely silly story's will love Ivy and Bean.