Dragon Slippers
Written by Jessica Day George
Reviewed by Bethany H (age 11)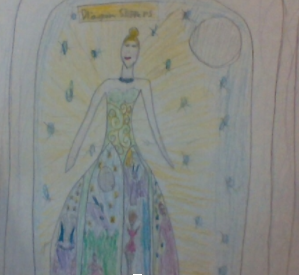 I am going to tell you about a wonderful story with magic and mystery, friendship, and courage. It starts with a poor girl that starts on a journey to find a job, and ends up making a friend of a dragon along the way. The dragon's name was Theodoras, soon she had to leave and as a parting gift Theodoras had her pick a pair of shoes out of his hoard. She doesn't know it, but there is something very special about the shoes. She continues on her journey. She soon finds the city and meets a prince and he becomes her friend. He soon finds her a job as a seamstress, so that she can get money to start a shop.
One connection that I made in this book was when she got her job as a seamstress. It reminded me of when I started doing sewing and embroidery. My favorite characters were the dragons. They are very majestic. I wish I could actually meet one today. Another book that has dragons is The Fire Within by Chris D'Lacey. The dragons are different than in Dragon Slippers but still majestic and fun. I felt very excited each time I read this book. I know you will like it too!
Also I would suggest this book to anyone that likes magic, suspense, and courage. The action will keep you reading. The dragons are wonderful characters. This book would be great for ages 9 and up. Read this book!