Harry Potter and the Cursed Child
Written by J.K. Rowling
Illustrated by Jack Thorne
Reviewed by Miles H. (age 10)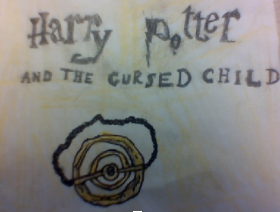 If you like Harry Potter you will want to read this, the eighth book nineteen years later. Harry potter and the Cursed Child is now out but only in a special edition script version. Harry Potter's son, Albus, is in for something. Albus Potter and Scorpius Malfoy are trying to get a time turner from the ministry. Get ready for a time travel adventure. Albus and Scorpius mess around too much with time. They mess up the real world and they have to go back to fix it. What will happen next? That's for you to find out.
I thought the book was interesting and I felt the book kept my attention. Albus reminded me of me because he was different than other people. And I feel different. My favorite part is when they go to the Ministry and steal the time turner. It was a really exciting part. This book is part of the whole Harry Potter series and they are all magical.
I really liked this book . It's an exciting book full of mystery and surprises and I would recommend this book for ages 8 and up.