Dragon Rider
Written by Cornelia funk
Illustrated by Cornelia Funke
Reviewed by Micah C. (age 11)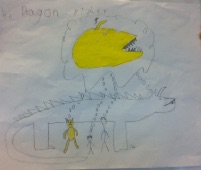 The Dragon Rider is a boy with a brownie (is a cat that acts like a human) and a dragon.They go on a lot of adventures to find the other dragons. There is also a professor. He helps them by sending them to the djinn. They went to find the djinn because he could help them. The djinn shows them where the dragons are. They keep meeting up with the professor throughout the story. The scariest part is when Twigleg and the rat were flying around the giant golden dragon's head. It was snapping at them. The ending is happy.
I would give this book a 10 in 1-10. It was really fun. My favorite parts are when they met the serpent and the djinn. The serpent helped them ride across the ocean to get passed the crows. The djinn was nice to the boy. The boy changed in the story. He was just an orphan on his own but he turned out to be the dragon rider! I would be Fire Drake the fire dragon if I could be a character.
I recommend this book for 9-14 year olds because it's has a lot of pages but easy words. A lot of adventures happen in this book. They have to go on a quest to save the dragons. It is a really good book and I think it would be fitting for people in this age range.