The Name of the Book is Secret
Written by Pseudonymous Bosch
Illustrated by Gillbert Ford
Reviewed by Calvin A. (age 11)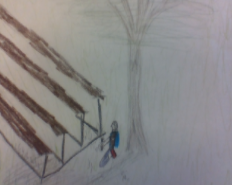 The Name of This Book is Secret is the first book of the Secret Series, which is a thrilling mystery-adventure story. Cass (Cassandra) is a eleven year old survivalist with oddly pointy ears. She has no idea who her parents are and lives with her grand parents in their firehouse turned antique shop. They just found her on their doorstep! Cass and her new best friend Max-Ernest fight an ongoing battle against the evil Midnight Sun.
This was one of my favorite and most loved book. It was quite a happy moment when Cass and Max-Ernest became friends, and Cass was no longer friendless. It was quite surprising when Cass and Max-Ernest got trapped in a house with the leader of the Midnight sun. This series is a lot like the Lemony Snicket series because they are both trying to solve mysteries against evil people.
I recommend this book to third graders and up, because it has a handful of complicated words. It is a very interesting mystery book, so if you're into that, I definitely recommend this book.