Back-To-School Fright from the Black Lagoon
Written by Mike Thaler
Illustrated by Jared Lee
Reviewed by Paddy N. (age 8)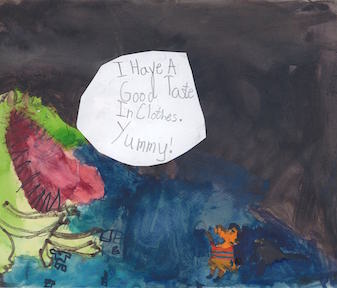 I recommend the book "Back-To-School Fright From the Black Lagoon." This book is about a boy named Hubie and he is the main character. He is about our age. The story mostly takes place in a mall because he has to buy clothes. He doesn't like going to the mall, but he does. The story is about going back to the black lagoon.The black lagoon is not a lagoon. It's a school.
One my favorite characters is Hubie because he imagines things. Another reason I like this book is because of the pictures. They're like comics. I also like that he goes to the store and has a horrible time buying clothes, shoes, and supplies because it's dramatic. It's funny because he buys new underwear and in the picture he's wearing sunglasses because his underwear are glow-in-the-dark. I also like when his mom says, "I have a good taste in clothes." He imagines that his mom is a monster and she's eating the clothes. He says, "You have a bad taste in clothes" to his mom. The dog says "I agree."
I would give this book 4 stars! I recommend this book to people who like funny books. I hope you enjoy this book. Have fun!