Magic Tree House: Dinosaurs Before Dark
Written by Mary Pope Osborn
Illustrated by Sal Murdocca
Reviewed by J.S.L. (age 9)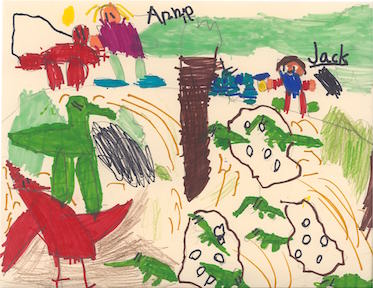 I recommend "Dinosaurs Before Dark." I like this book because it is a chapter book and there are dinos! I love this book soooooo much! On the first page, Jack and Annie are walking in the woods and then they find a treehouse. They go inside and there are books. Jack looks at a dino book and said, "I wish I could see a pteranodon for real." Then magically they go to the dino time and find awesome things such as dinosaurs and the medallion.
My favorite part is when Jack and Annie see the pteranodon. I would like to see more than the four dinosaurs in the book and for it to be longer, but the pictures are awesome! They helped me imagine the story. Another reason I like Dinosaurs Before Dark is the Dinosaurs. The dinosaurs in the pictures are awesome. The details go with the pictures and the medallion is as cool as the dinos. My favorite character is Jack because he likes dinos and he is brave. My favorite part is seeing all the dinosaurs like the T Rex in the path to the treehouse. The anatosauruses are cool. I like that the author had suspense and lots of details in the book.
I recommend this book to readers who like dinos. I also recommend this book to ages 5-9. It is one of the best books I've ever seen! It is a four star book. It is the best fiction dino book.