Magic Tree House: Sunset of the Sabertooth
Written by Mary Pope Osborne
Illustrated by Sal Murdocca
Reviewed by Eric Z. (age 8)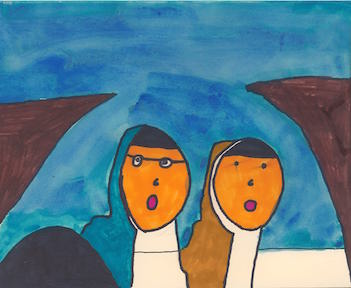 If you like adventure, you will love "Magic Treehouse Sunset of the Sabertooth." This book is mostly about Jack and Annie on a mission in the ice age to get the third M thing. Before Jack and Annie get the M thing they needed to find out what the M thing is. The third M thing is a mammoth bone flute. After that they look for the M thing. Then they fall into a deep hole and meet a sorcerer and a sabertooth tiger.
My favorite character is Jack because because he is smart and brave. For example, he is smart when he tells Annie to cover her head with her swimming towel so she won't freeze. He is brave when he went into a cave with a great cave bear to find Annie. My favorite part is when Jack and Annie think that the great cave bear has woken up because they hear the great cave bear snore very loudly. I like the pictures because the pictures are realistic.
I hope you like this book and enjoy the others in the series. I recommend this book to readers who like adventures!