Maxi, The Star
Written by Debra and Sal Barracca
Reviewed by Ruben M (age 10)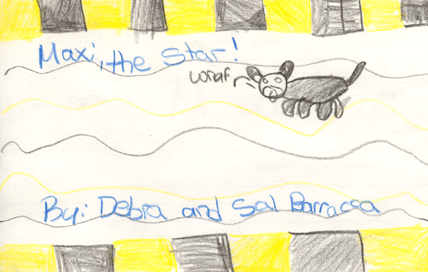 Wouldn't you want to be a star? Well Maxi is and he is the new Doggie Bites Star! This book is about a taxi driver named Jim and his dog named Maxi. Maxi is famous to all the people in NYC because he had rescued many citizens when they were in danger. When Maxi and Jim were on duty they picked up a famous movie actor. This famous movie actor's name was Mr. Leaf. Mr. Leaf asked Jim if he would like for Maxi to be the new doggie bites star. Jim said yes, but where asked Jim. Mr. Leaf said in Los Angeles and I'll send a limo for you.
I think that this book was swell because it was very exciting and adventurous. My favorite part of the book was when Maxi became the new doggie bites star, because it was funny to see Maxi with his paw on top of a doggie bites box. The characters I liked were Jim and Maxi because they were the main characters. I think the illustrations were great because some parts with action looked real. The way I felt as I read the book was very excited. The reason I felt excited was because of the adventuress the characters went on and it was my first time reading it. This story reminds me of when I used to go on exciting adventures with my dad.
I would recommend this book to any kid who likes to read books that have a lot of adventures. I would also recommended this book to anybody who wants or has been on an exciting adventure with somebody. This book is also good for kids who likes to read.