Mr. Hubble is in Trouble
Written by Dan Gutman
Illustrated by Jim Paillot
Reviewed by Charlie M. (age 8)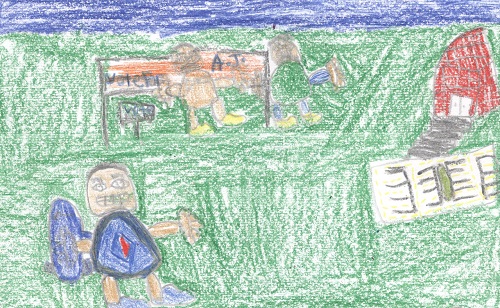 Mr. Hubble is in Trouble is an amazing book. The main characters are A.J., Mr. Hubble and Andrea. I think the author's purpose is to entertain the reader. I think the author uses red herrings to trick the reader. This is a tremendous book. A.J. and Andrea are running for class president. They are persuading other kids to vote for them. Who do you think will win the election? If I were you I would go to the library and read this book rite now.
I am confident you will want to read this book. First of all at some parts it makes me laugh. Mr. Hubble and A.J. are funny characters. In addition, some parts make me wonder about who would win the election. One part in the book reminds me of when my friends pretended to be my body guards. My favorite part is when someone sticks a baby in A.J.'s face. If you want a good laugh read this book.
You should read this book because it is kind of a mystery and it is kind of not. A reader who likes funny books and mysteries would enjoy this book. The beginning and the end will probably interest you the most because it is a surprise!