Because of Winn Dixie
Written by Kate DiCamillo
Reviewed by Lizza W. (age 9) & Jazzy N. (age 8)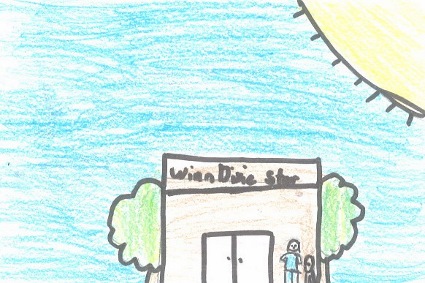 Winn-Dixie is a story about a girl named Opal and a dog named Winn-Dixie. They meet new people on every adventure they go on. When you read the book, you can meet them too.
I'm Jazzy, and my favorite part is when they found Winn-Dixie when the rain storm started. It's my favorite part because Winn-Dixie was safe. I am most like Opal because I love pets, and I am really kind like Opal is. I made a connection when Opal went to bed, and Winn-Dixie went on Opal's bed, and her dad did not want Winn-Dixie on her bed...that was like my dad because he does not want my cat on my bed.
I'm Lizza, and my favorite part is when Winn-Dixie was running back and forth though the trailer and jumping on the bed. Even though I felt sorry for Winn-Dixie because he was so afraid, I thought it was funny to picture him running back and forth like that. I am most like Opal because I love animals as much as Opal does. I made a connection with Opal when she found a stray dog, kept him, and named him Winn-Dixie. I found a stray dog just like Opal. I kept that dog too, and named him Bubba.
We recommend the whole school to read Because of Winn-Dixie. Winn-Dixie is a fun and happy story for kids and adults. We think the part of the story where Winn-Dixie gets lost is REALLY interesting. It will keep your attention and make you want to keep reading to find out what happens next.