Because of Winn Dixie
Written by Kate DiCamillo
Reviewed by Isaac F. (age 9), Cadence K. (age 9)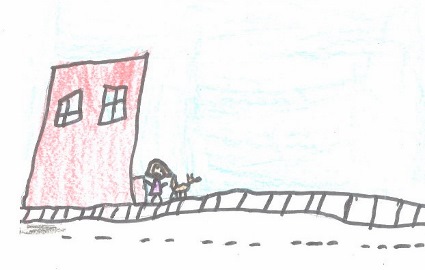 When Opal got to the store there were fruits rolling around because of a dog. Opal saved the dog from going to the pound and called him Winn-Dixie. Because of Winn-Dixie, Opal met new friends like, Gloria Dump and the Dewberry boys. Read the book Because of Winn-Dixie to go on all the adventures with Opal and Winn-Dixie!
I'm Cadence, and my favorite part is when Opal finds Winn-Dixie and keeps him, because she's caring for an animal. I am most like Opal because Opal loves animals, and I love animals too. I'm also like Otis, because Otis doesn't think animals belong in cages, so sometimes he lets them out of the cages...I would do that too. I have a connection with Otis because he let the pet store animals out of their cages for awhile, and if I get a pet duck I'd let my pet duck out of its cage and roam around. I'd get it a litter box because I don't want it to get loose, or attacked by another animal. That way it can stay in the house.
I'm Issac, and my favorite part was when Opal saves Winn-Dixie at the grocery store. It is my favorite part because Opal instantly loved Winn-Dixie, and I instantly loved Winn-Dixie too. I am most like Gloria Dump, because I like people to read to me like Gloria likes Opal to read to her. I am also like Opal and Otis, because they both love animals and I love animals too, especially cats and dogs. I have a connection with Gloria and Winn-Dixie because I give my dog, D.J, peanut butter like Gloria gives Winn-Dixie peanut butter.
We recommend this book because it is a good book. It has funny parts and sad parts. Opal and Winn-Dixie go on lots of adventures together because they are best friends. Everyone is good at best friends. We think kindergartners all the way to grown-ups will like this book. Teachers will love this book!!! In the first part of the book, when Opal saves Winn-Dixie from the people who are going to call the pound, it will capture your heart...it already captured our hearts.