Because of Winn Dixie
Written by Kate DiCamillo
Reviewed by Addison M. (age 9), Mackenzie C. (age 9)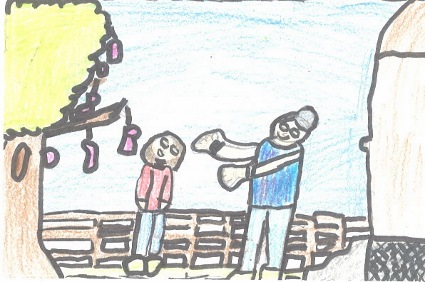 A girl named India Opal Buloni went to the store to get a box of macaroni and cheese, two tomatoes, and some white rice, and she came home with a dog...and that is when it all started. Opal meets new friends on her journey through a new town, but it was tough with-out her mom. Read to find out what journeys Opal and Winn - Dixie go on.
Hi, I'm Mackenzie, and my favorite part of the story was when Opal and Gloria had the party. I liked that even Otis came when no one thought he would. I am most like Otis, because Otis likes animals and I do too. I am also shy like Otis, but only for a little while. I have a connection with Opal because I found a dog at my door, and Opal found Winn-Dixie, a dog, at a grocery store.
Hi, I'm Addison, and my favorite part of the story was when Opal went into Gloria Dump's yard and she showed Opal the tree...it was filled with bottles. I like that Gloria shared that with her. I am mostly like Opal because I had a dog that was just like Winn-Dixie...skinny, but playful. I fattened her up just like Opal fattened up Winn-Dixie. I have a connection with Gloria Dump because she has a house with a jungle for a yard, and my house in Eddyville was like a jungle in the yard.
We recommend Because of Winn-Dixie to people of any age as long as they enjoy books that are both funny and sad. One part of the story we think readers will find really interesting is when Opal loses Winn-Dixie! That's an OMG moment! Read the book to find out if Opal finds him.