Because of Winn Dixie
Written by Kate DiCamillo
Reviewed by Tyler H. (age 9), Abdul A. (age 8)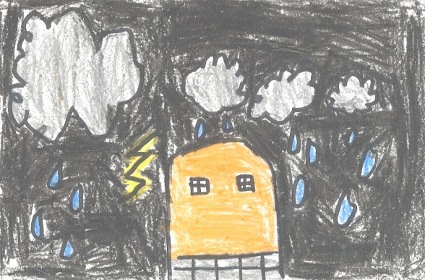 This is a story of a girl named Opal and a dog named Winn-Dixie. Opal gets Winn-Dixie from a grocery store called Winn-Dixie. Can you believe she did that? They go on adventures to meet friends like Otis. Read to find out what other friends they will meet.
I'm Abdul, and my favorite part was when Opal and Gloria had a party. They invited everyone, and even Otis showed up with a jar of pickles. I made a connection with Winn-Dixie because Winn-Dixie is scared of thunderstorms. I am scared of thunderstorms too. My favorite character is Opal because I like that she rescued Winn-Dixie from the Winn-Dixie grocery store.
I'm Tyler, and my favorite part was when Winn-Dixie licked peanut butter. It's funny when dogs eat peanut butter. I made a connection with Opal. Opal's dog ran away and my dog ran away too. Luckily I found my dog, but if you want to know if Opal finds Winn-Dixie, you have to read the book. I'm most like Otis because I take care of pets like he does. My favorite character is Mrs. Frannie Block because she thought Winn-Dixie was a bear. That part was funny! She always has interesting stories to tell to Opal andWinn-Dixie.
We recommend this book to anyone who is an animal lover. One of the main characters is a dog named Winn-Dixie. Another main character is a girl named Opal. They go on many adventures together. This book is both sad and funny. We think you will love the part when Winn-Dixie eats the peanut butter for the first time.