Dory Fantasmagory
Written by Abby Hanlon
Reviewed by Charlotte M. (age 8)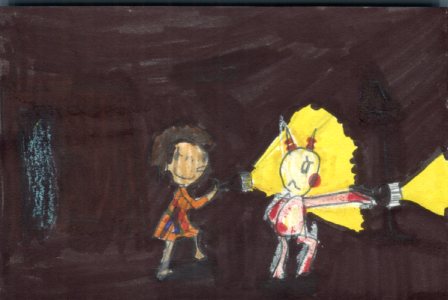 In Dory Fantasmagory Dory has a big imagination. Dory's brother Luke and sister Violet are very mean to Dory. Violet and Luke make up Mrs. Gobbel Gracker and Dory thinks she is real. Dory has a fairy godmother. Dory goes to the doctor and Dory is bad. Dory's mom is mad so Dory's mom said that Dory should go to her room. Dory gets mad and Dory thinks that Dory's mom, sister, and brother are eating with Mrs. Gobble Gracker. But they are not. Dory throws Violet's doll and Violet cannot find it so Luke finds Violet's doll and Violet is happy. The next day they play with Dory and Dory feels better.
I dislike Violet because Violet is mean, loud, and she lies. Violet is mean to Dory and Luke is too. My favorite part is when Dory comes back from the doctor. I like this part because when Dory comes back she was acting like a dog so Dory's mom got mad and Dory went into her room. I loved when Dory turned into a dog. She got in trouble when she went to the doctor. She was talking like a dog and she went to her room. I thought it was funny. I loved when Dory dressed her fairy godmother in a dress. Dory's fairy godmother is a boy so it is funny! That's why I love this part.
I recommend this book to 6, 7, and eight-year-olds. I think 6, 7, and eight year olds would like the book because it could be just right for their grade. This book is funny so if you like funny books you should read this book!