Little Rhino: Dugout Hero
Written by Ryan & Krystle Howard
Illustrated by Erwin Madrid
Reviewed by Maxim T. (age 8)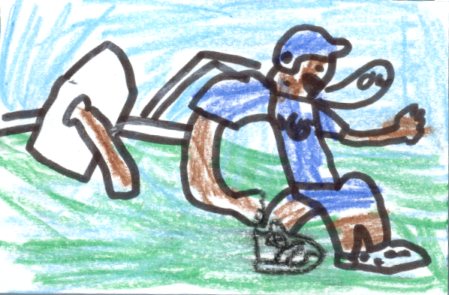 In Little Rhino, Dugout Hero Rhino is a baseball player. Rhino hit a ball and he ran to first base, second, third, and home. "He did it!" said the coach. After he hit the home run and ran the bases he heard a crack, but it wasn't the ball. "Yowie!" he said. He felt a sharp pain in his right ankle. Rhino sprained his ankle. His ankle got better. Rhino got back in the game!
I liked "Little Rhino, Dugout Hero," but when he sprained his ankle it made me feel sad. He must have been really hurt when he sprained it! But then he got better and could play. My favorite part was when Rhino learned to play after he sprained his ankle because it was happy when it happened and I liked it. It reminds me when I was dancing and I twisted my ankle. Rhino sprained his ankle playing baseball and I know how he feels.
I recommend this book to second graders because there are no tough words to understand. I would also recommend it to people who like sports.