Little Rhino: Dugout Hero
Written by Ryan & Krystle Howard
Illustrated by Erwin Madrid
Reviewed by Christian P. (age 8)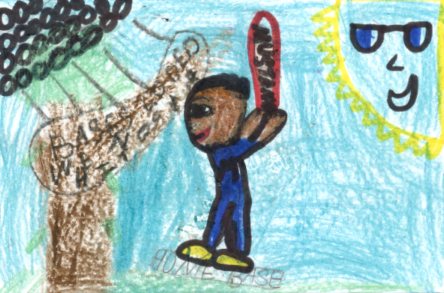 In Little Rhino Dugout Hero Rhino loves to play baseball. Rhino's ankle gets sprained. Rhino can't play but he can watch. Rhino needs to wait a couple of weeks to wait to play again. Rhino is pretty upset that he can't play baseball and needs to stay in from recess to ice his ankle. His ankle gets healed. Rhino can play baseball AGAIN!
I liked when Rhino ate a mustard hotdog. I liked this part because I like to eat mustard on my hotdogs, too. Rhino and I both like mustard hotdogs. This book reminds me of when I broke my two pinkies, left collar bone and fractured my left ring finger. I'm not really sad that Rhino sprained his ankle because I've broken 4 bones. When Rhino was batting he felt a pop. I wasn't sad that Rhino sprained his ankle because I knew he'd be ok. My favorite part was when Rhino gets better after he sprained his ankle. This is my favorite part because his ankle got healed.
I recommend this book to second and third graders that like sports. I also recommend this book to people who have sprained bones playing baseball.