Kids
Written by Catherine Anholt
Illustrated by Laurence Anholt
Reviewed by Keila V. (age 11)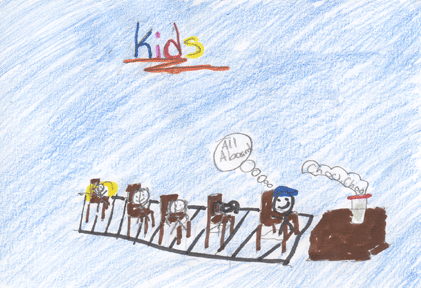 Are you a kid? What kind of kid are you ? What do you like to do? This book I'm writing about talks about different kids. They are big kids, happy kids, grumpy kids and cute kids. I'm a funny kid.
Do you have secrets? These kids have a ton of secrets. I have secrets too. Like reading my sister's diary. This story reminds me of me when I was a little girl and I use to put bugs in the house. Another reason I like this book is because it reminds me of my nephew who is 3 years old. My favorite part was when they said they are hairy kids too . I learned what nasty kids are like and how nice kids are. I think that the pictures were really nice and I wish I could learn how to draw like that.
I recommend this book to any kind of kid who's different from others. Also you will find more ideas about your self.
.