The Glass Sentence
Written by Kimberlee Graves
Reviewed by Eva S. (age 11)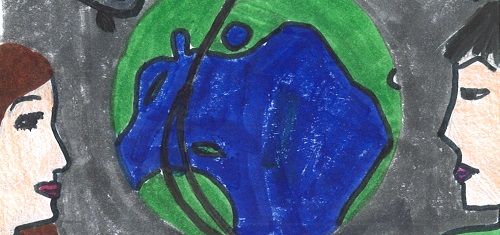 On July 16th, 1799 our world was hopelessly broken up by time. Sophia Tims is a thirteen year old girl almost a hundred years after "The Great Disruption". She lives with her uncle Shadrack Elli, a famous mapmaker in Boston. While different countries disappeared, others went forward or backward in time and monsters only out of myths started appearing. Then the government decides to ban all non natives from New Ocident and Shadrack is captured by the mysterious sandman and their bitter and formidable boss. Suddenly Sophia is pulled into a wild chase to find her uncle, along with the aid of Theo, a boy with a difficult story. As she delves deeper into the mystery, then finds this all is about one thing: A map that reveals the one greatest treasure in the world!
I loved this book in so many ways. At the start you don't know much about the characters and as you read more you realize truly how complex the situation is. What starts as a kidnapping quickly turns into a quest. You struggle along with Sophia as she desperately searches for her uncle and starts to find herself along the way. It is very creepy when they are in a abandoned underground city. What starts out a little boring but then the words just flow like an entrancing river.
It was a bit of a mix between science fiction, historical fiction and fantasy. It is an amazing book that is probably best for 4th grade and up. It is a timeless book that even adults would enjoy. Readers who loved The Golden Compass (a.k.a the series His Dark Materials), the Lunar Chronicles or The Books of Ember would really love it.