Smile
Written by Raina Telgemeier
Illustrated by Stephanie Yue
Reviewed by Grace H. (age 10)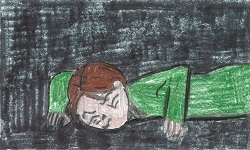 There is a teen who is going to have braces and a little before she has to get braces. She falls and gets braces and gets her teeth messed up. Then she has trouble taking care of her teeth!
I like this book because it is so realistic, anyone could struggle with braces. It's also really funny because there are lots of things that her younger sister teases her about. I felt bad for her when she thought she looked weird because her front teeth were too short. I thought it was funny when her sister was yelling at her saying she is going to be a metal mouth.
I think this book is perfect for people who like comedy. I recommend this book for 8-18 year olds. Anyone who have had braces will love this fun fantastic book.