Sisters
Written by Raina Telgemeier
Illustrated by Raina Telgemeier
Reviewed by Tiara B. (age 11)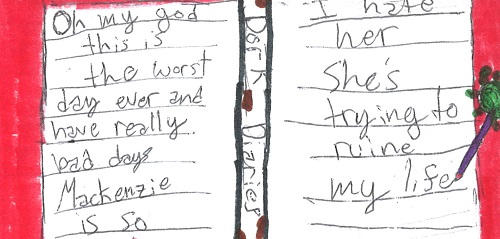 This book is about a family who takes a road trip and there is two sisters. They are cramped in a van with their brother and their mom. Their dad decided to fly there. They are going to their cousins house. Read this book to find out what the big "incident" is and why one of the sisters is scared of snakes!
One thing I liked about Sisters is when Riana tells Amara to draw, but then Amara got mad and sat on the ground. Then mom comes in and tells Amara to sit on the table and Amara screams, "No Touch!" "No, No, No, No, No!". One other that was interesting is when there packing up and Will and Riana are fighting over the front seat, and the dad says "I'm surprised you're not wanting the front seat after the "incident". One sad thing was when their dad and mom were fighting. One funny thing was when you see a picture of Riana mad when she got "attacked" by a snake.
I recommend this book to 3rd-5th age will be 8-11 and up,The interest of this book is that if you and your sibling can relate to this book and its exiting to try and find out what the incident.