McKenna, Ready to Fly
Written by mary casanova
Reviewed by Anna L. (age 8)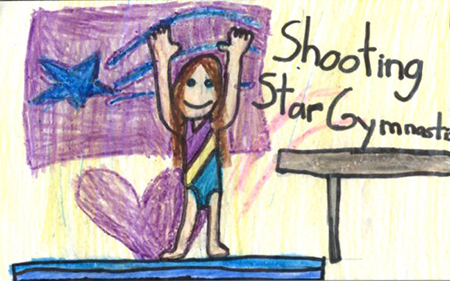 McKenna, Ready to Fly is a book about a nine year-old girl who is a gymnast. She has two sisters that are five years-old. They're twins. Their names are Mara and Maisey. In the book, McKenna falls behind in her schoolwork. She gets a sixth grade tutor named Josie. Josie helped McKenna a lot along the way. Soon, McKenna is ready to do reading and remembering what she read on her own. Then, she twists her ankle and gets a cast. She might not get to compete for a competitive team. Read to find out if she gets to compete or not.
This is my favorite book because I really like gymnastics. I also really like the American Girl Doll company. I think the lesson in this story is to never give up, and that there's nothing wrong with needing a little help. My favorite character was McKenna because she is really nice and she always tries as hard as she can.
I recommend this book to kids ages 7-12. I also recommend it to people who like gymnastics or to people who are familiar with American Girl stuff. Also, people who compete in different things might like this book.