Earrings!
Written by Judith Viorst
Illustrated by Nola Langner Malone
Reviewed by Cristal L. (age 11)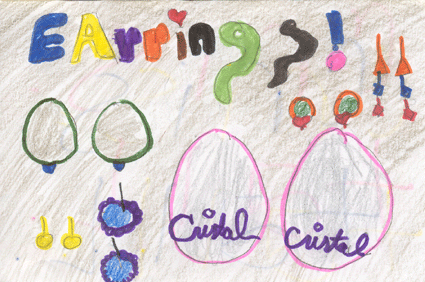 Do you have earrings? Well this girl wants earring really badly. She would do anything to get some earrings even wash dishes and take a bath with out any one telling her to. She is embarrassed because she is the only girl with out earrings in her class.
My favorite part of the book was when the girl said, "I want them, I need them. I love them. Beautiful earrings. Glorious earrings." The lesson of this story is when you want some thing stay until you get it. Be calm about what you want. This reminded me of the time I wanted a bicycle and I got it. I like the pictures because it is very colorful.
I will recommend this book to a kid who wants some thing very badly and grown-ups can read it too. It is very colorful and it is very a nice book.