Sisters
Written by Raina Telgemeier
Illustrated by Raina Telgemeier
Reviewed by May R. (age 8)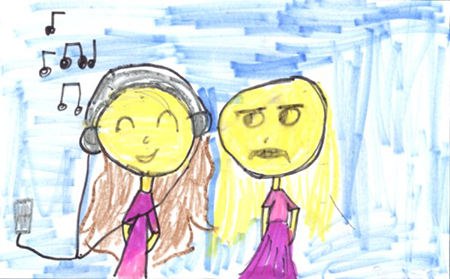 Sisters is a chapter book that has colorful illustrations. The sisters in the book do not get along. The author includes a lot of flashbacks in this funny book. One of the sisters is afraid of snakes. In one part a snake went into the family car before they were heading out on a road trip. On the way back from their trip, the snake came out. Read this book to find out what happens next.
I loved Sisters! Sisters, Smile, and Drama are all books by Raina Telgemeier. Some of the books have the same characters. I think Sisters is a really good book because it is fun and really funny also. In the book many of the words are written in word bubbles. I thought that was different and cool.
I recommend this book to kids from second grade up to fifth or sixth grade. I think kids will like it because it is so humorous.