The Popularity Papers: love and other fiascos
Written by Amy Ignatow
Reviewed by Addi S. (age 11)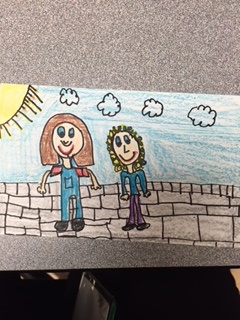 The Popularity Papers is a fantastic book you should get it at you local store today.
The two main characters are Jane and her best friend Lydia. Jane and Lydia are both in middle school. They are trying to break up Lydia's mom and coach Eric In New England. They want to break them up because he is abandoning his children and the girls feel bad for his kids. They try to get everything that is uncomfortable like beaded pillows, candles that smell awful, and potpourri that is like beef jerky for flowers. They hope to make coach Eric feel so uncomfortable that he will leave. But in the later part of the story they noticed that coach Eric's kid were much older and his son had a girlfriend already. They learned that you can't judge other people's choices who might abandon their children because you don't know what the reason is and you don't know they're older. Lydia's mom and Coach Eric had a wedding and had fun.
I like it because the story sent out a message that it's not good to talk behind someone's back because you don't know what is happening in their life. My favorite part would probably be when Lydia's parents had the wedding. The book made me feel like I shouldn't talk behind people's back. My favorite character would be Lydia, because she likes to be herself like when she dyed her hair blue. I like the author's style of writing because Lydia talked in cursive and Julie talked in her handwriting and that the illustrator had big pictures.
I think 4th grade girls should read this because it's about dating and with girls so I wouldn't say that boys would like it.