My Friend is Sad
Written by Mo Willems
Reviewed by Aubrey F. (age 7)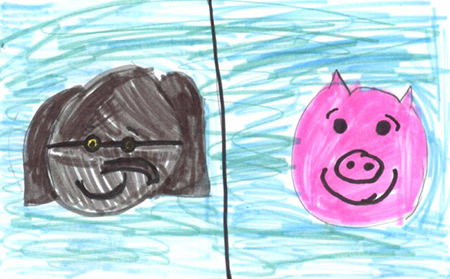 My Friend is Sad is part of the Elephant and Piggie series. Gerald is a careful character, but Piggie is not. Piggie cannot help smiling, but Gerald can. Gerald worries so that Piggie does not have to. Gerald and Piggie are best friends in this book. Gerald is sad. How can Piggie can be happy if Gerald is sad?
I liked this book because it was funny. It reminded me of another Elephant and Piggie book titled Can I Play Too because that book was also funny. My favorite part was when Piggie was dressed up like a cowboy. I thought she looked funny. The illustrations helped make the book be even funnier.
I recommend this book for kindergarteners to second graders because it's an easy book to read. I think it would be too easy for third graders and up.